Videos dominate today's digital world along with the development of popular social media such as TikTok, Facebook, YouTube, and Instagram. Video editing software is essential to all content creators whether they are stars, businesses, or influencers. iMyFone Filme is a useful video editor software that allows you to make videos with music in one click and offers all the editing features that you want. With it, you can do the basic editing, add stunning effects, or use the advanced features to make videos by yourself.
iMyFone Filme Discount Coupon Code
Coupon Code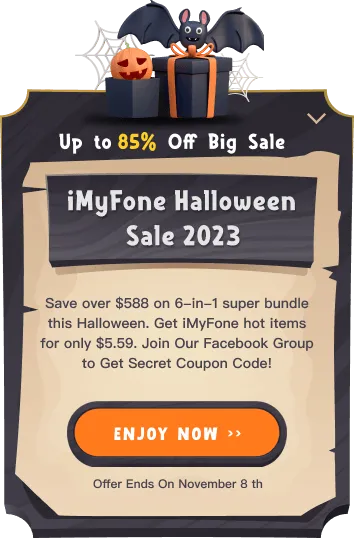 Enjoy 85% Off with iMyFone Halloween Sale 2023
Get your Up to 85% Off Bundle Treats to overcome the nightmare of phone problems this Halloween! Offer ends on NOV.8th. 2023
100%
iMyFone Special Offer
80% Off iMyFone Holiday Promotion. Best deals on iMyFone top-selling products.
100%
Filme - Yearly License
76% Off coupon code, regular price $69.95, discounted price $16.96
100%
Filme - Lifetime License
32% discount: regular price $99.95, discounted price $67.96
100%
Filme - Monthly License
49% Off promotion, regular price $49.95, discounted price $25.46
100%
iMyFone Sitewide Coupon Code
Extra 15% discount promo code for all iMyfone products
100%
iMyFone Filme License Key Free
Giveaway Details
Paid version
License will be sent within minutes
Free lifetime updates
Free technical support
Giveaway version
Register before this offer has ended
Non-commercial use
You get free updates
No tech support
How to get the license key?
Instructions
Open the iMyFone Filme giveaway page and share this page with "#Filme with me" on your social account. Enter a valid e-mail address for receiving the registration code (please note that you can only get one license for an e-mail).
Check everything you need in your mailbox:
Download and install Filme for Windows, and register with your mail and registration code:
iMyFone Filme main screenshot:
iMyFone Filme Review
Features & Screenshots
iMyFone Filme project media
iMyFone Filme works exclusively to build a creative and informative slideshow for your needs. Both Windows and Mac users can create and edit videos with this powerful tool. With its help, you can generate videos from pictures with plenty of templates, graphics, effects, music, and filters to make the final project amazing.
Edit media clip:
iMyFone Filme has a good video editor with multiple convenient editing tools. There are options to adjust brightness, contrast, white balance, rotate, scale, and blurriness. One mouse click allows you to change video to linear, mirror, round, rectangle, star, and heart.
Edit music – audio track:
There is also a tool to allow you to make edits and to make audio better. This tool can edit vocal and music recordings such as change volume, fade-in, and fade-out that can be integrated into works for others to enjoy. You are able to quickly change the original video/audio voice to man, monster, robot, minions, chipmunks, etc with the help of the voice changer feature.
Add resources:
With the massive resources (154 resources) empower your videos energy including static background, dynamic background, intro, transition clip, outro, green screen, business, and scenery shot. It will make your projects so stunning that you can't take your gaze away from them.
Add text
Filme Video Editor allows you to create cinematic titles in a matter of moments with the add texts function. It includes customized templates such as fun, gamming, festival, news, etc. You also are allowed to customize the colors and fonts of your title text.
Elements
To build attractive video clips to engage the viewers, Filme supports elements. Videos can be created in several minutes using the elements that you've added.
Transitions
Transitions are applied between different clips. You can use transition effects like basic, slideshow, speed blur, warp, mask, ripple&dissolve, and camera movement between to edit video based on your needs. Embed the awesome transition effects on the timeline to engage the viewers.
Effects
The software comes with plenty of different effects including shake, soul, rotate, burr, zoom, flashing, etc that can improve your videos. You can use effects for a portion of your video or the entire video.
Filters
Filme gives various filter effects options for you to use to create vivid and refined digital stories by adding filters and animations. The basic filter includes cyberpunk, exposure, aibao, water, willow, funhouse mirror, and a variety of other filters that will grab your curiosity.
Audio
iMyFone Filme helps you achieve the effect of being in the mixing room of a recording studio with multiple different audios such as pop music, light music, cinematic, holiday, bright, emotion, and more. You can play 8 or more audio tracks simultaneously.
Fast Video
With a single click of the mouse, you will get all that's required to create impressive slideshows or videos with built-in templates.
Quick video guide for beginners:
Frequently asked questions
Q&A
Is iMyFone Filme free?
Filme has a free trial that gives you enjoyment in the full features, you can use it for your lifetime, however, the exported video will be watermarked.
Technical Details
Product specification
Language Support
English, Français, German, Italian, Japanese, Portuguese, Russian, Spanish, Swedish, and more…
Money Back Guarantee
30-Day
Operating System
Windows 11, 10, 8.1, 8, 7
macOS
Shipping
License will be sent instant
Subscription
Monthly, Yearly, Lifetime
Support Services
Tickets
User's and Editor's scores
Add your rating
8.0/10
With iMyFone Filme, you can easily add and refine music and voice to record and share your precious moments within your videos.