Are you looking for a voice changer program to make your voice more special and unique? iMyFone MagicMic is exactly what you need. iMyFone MagicMic is a simple, easy-to-customize, and handy voice changer which is good at transforming your voice in real-time to all types of voice filters like Minions, Robot, Echi, Megatron, Goblin, etc. Additionally, it comes with over 200 sound effects and many options that ensure to suit your needs.
iMyFone MagicMic Discount Coupon Codes
Coupon Code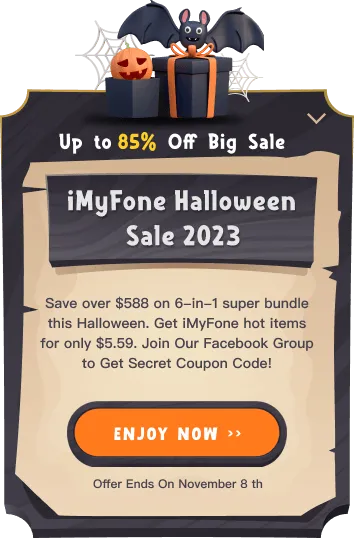 Enjoy 85% Off with iMyFone Halloween Sale 2023
Get your Up to 85% Off Bundle Treats to overcome the nightmare of phone problems this Halloween! Offer ends on NOV.8th. 2023
100%
iMyFone Special Offer
80% Off iMyFone Holiday Promotion. Best deals on iMyFone top-selling products.
100%
MagicMic - Monthly
49% off promo code: regular price $14.99, discounted price $7.64
100%
MagicMic - Quarterly
45% off coupon code: regular price $19.9, discounted price $11.04
100%
MagicMic - Yearly
58% discount coupon code: regular price $39.99, discounted price $16.99
100%
MagicMic - Lifetime
43% special offer: regular price $59.99, discounted price $33.99
100%
iMyFone Sitewide Coupon Code
Extra 15% discount promo code for all iMyfone products
100%

iMyFone MagicMic License Code for Free
Giveaway
Paid version
1 year or lifetime license
Lifetime free upgrades
7/24 Technical support
Giveaway version
6-month license code
No free tech support
Non-commercial usage
How to get the license key?
Instructions
Go to the iMyFone MagicMic giveaway page and share this giveaway as the instructions to get a free license code:
Check your mailbox to copy the iMyFone MagicMic registration code:
After installation, just launch the software then register it to the full version and enjoy it for 6 months:
iMyFone MagicMic main screenshot:
After the installation is finished, the main window software will appear like the below image. You are able to click on any voice filter and speak into your microphone to check how your voice sounds on each of them.
Soundboard
Not enough sound effects? You can import audio files from your computer to use more sound effects. You also are allowed to add favorites sound from discord, background sound effects, nature, game, fart, etc.
Voicememe:
Excellent voice changer with Voice Meme. You can change your voice to Egirl, Cartoon girl, Crazy Siri, Trump, harry Porter, Anime, Celebrity, In game, and Monter.
VoiceStudio
With the VoiceStudio function, you can adjust the bass, midrange, and treble of the sound to make the sound deep or loud; copy your voice and change its frequency to make it sound like several voices, creating interference noise and simulating radio calls and more.
Settings
Select your microphone as the input device, and select your headphone as the output device. After input and output settings, there will be a pop-up window telling you your setting is complete.

What's iMyFone MagicMic?
Main Features
The voice changer of iMyFone MagicMic allows you to change your voice instantly with just one click. You just chose the voice, and it will be transformed immediately.
It comes with more than 50 voice-changing options, you can use it to change your voice into anyone else, like Dead Robot, Devil, Goblin, Lisa, Man, Space Squirrel, Sissy, Giant, Ghost, Nightmare Puppet, etc.
It has over 190 sound effects to change your voice to funny voices so you can use it during gaming, chatting, or live streaming.
iMyFone MagicMic can work for various platforms like PUBG, Second Life, Fortnite, CS:GO, Discord, Skype, and more.
It is very easy to use. A beginner can easily operate the software to select any type of voice.
Technical Details
Product specification
| | |
| --- | --- |
| Language Support | English, Français, Italian, Spanish, Swedish, and more… |
| Money Back Guarantee | 30-Day |
| Operating System | Windows |
| Shipping | Register code will be sent to your email in minutes |
| Subscription | 3-Month, 1-Year, Lifetime |
| Support Services | Tickets |
User's and Editor's scores
Add your rating
8.0/10
iMyFone MagicMic is a real-time voice changer that allows you to transform your voice in real-time to all kinds of things like devils or monsters or whatever.
Add your review
|
Read reviews and comments