Malwarebytes is a leading security software, designed to protect your computer from viruses, malware, and online threats. In particular, the real-time protection feature helps prevent online attacks as soon as they try to penetrate the system. With Malwarebytes, you can browse the web and use your computer safely with peace of mind. In addition to the advantages of performance, the interface and simplicity of use are also a plus point for new users who are not too tech-savvy.
Malwarebytes Discount Promo Codes
Coupon Code
Last updated: October 01, 2023
Get the best Malwarebytes promo code for all products.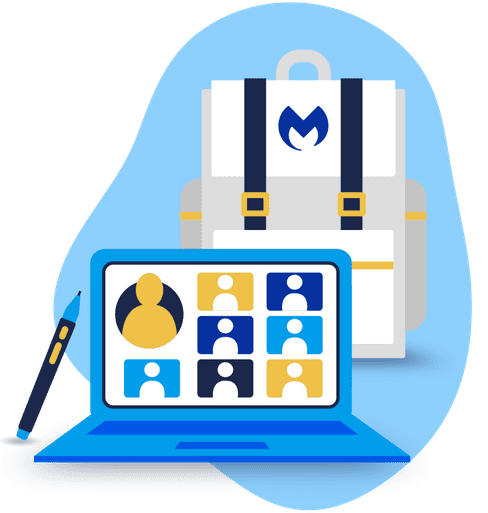 Malwarebytes Back-to-School
Malwarebytes Premium + Privacy VPN is 35% off. Promotional period: from Monday, August 21st through EOD Sunday, September 3rd
100%
Malwarebytes Premium - 1 Year/ 1 Device
25% off coupon code: regular price $44.99, discounted price $33.74
100%
Malwarebytes Premium - 2 Years/1 Device
25% discount coupon code: regular price $89.99, discounted price $67.49
100%
Malwarebytes Premium +VPN
Get the best price for this Bundle (Malwarebytes Premium, Malwarebytes Privacy, Malwarebytes Browser Guard)
100%
Malwarebytes Premium Free License Key
Giveaway Details
Terms
This is the premium license for 3-month/ 3-device
Non-commercial use
Free updates
Free tech support
Register before this offer has ended
How to get the license key?
Instructions
To claim your three free months of Malwarebytes Premium, enter your email address on the giveaway page
Check your mailbox for the download link and the license key
Open the Malwarebytes program on your device and activate it (you can use this license key for 3 devices: Windows, Mac OS, and Android)
Malwarebytes Premium screenshot:
Scanning your computer:
Threat scan results:
Add items to your allow list:
Security settings:
Display options:
Manage your license:
Main Features
Feature Highlights
Scan and detect malware: Malwarebytes gives you the ability to scan and detect various types of malware on your computer. It can detect and remove malicious files, drivers, spyware, rootkits, and other threats.
Browser protection: This feature can help you protect your browser from malicious websites and spyware. It provides the ability to block fake ads and buttons, help prevent phishing attacks and protect user privacy.
Real-time protection: The software provides users with the ability to prevent malware and computer attacks. When this feature is activated, the software will scan for new files and programs that are downloaded and installed on the system.
Anti-phishing: Users can take advantage of this feature to protect their computers from fake websites and online phishing attacks. When something goes wrong, the feature will notify you so you can detect and block files containing malicious links.
Technical Details
Product specification
| | |
| --- | --- |
| Language Support | English, Français, Italian, Spanish, Swedish, German, Japanese, Chinese, and more… |
| Money Back Guarantee | 60-Day |
| Operating System | Mac OS, Android, Windows |
| Shipping | Instant Delivery by Email |
| Subscription | 1-Year, 2-Year |
| Support Services | Forums, Live Chat, Tickets |
User's and Editor's scores
Add your rating
8.4/10
Malwarebytes Premium helps you for protection against malware, ransomware, and other dangerous threats on what is becoming everyone's most popular computer.
Add your review
|
Read reviews and comments